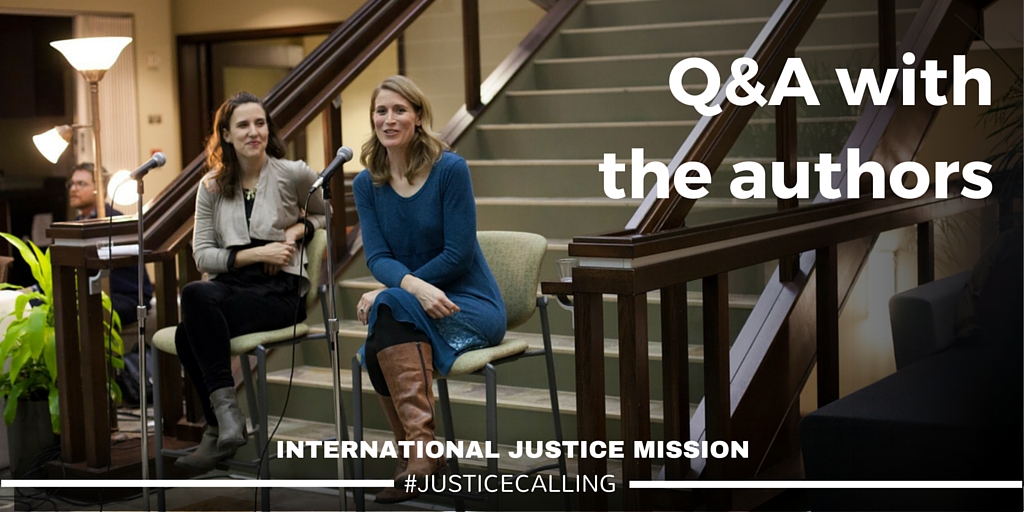 ​How did the two of you decide to work together?

Kristen: Bethany married one of my friends from college and whenever we would see each other at events through the years, we had a great connection and sensed a deep kinship. I was working on a book project on justice when I read Bethany's article in an issue of the Leadership Journal focused on justice. I realized that she was writing about the very things that I most wanted to engage through my project. We were able to spend a day together at a coffee shop in Grand Rapids, MI when she was in town and we sensed the

Holy Spirit confirming that we ought to take this on together. Throughout the process, we have each been deeply grateful for the gifts, strengths, and discernment that the other one brings. Truthfully, we could each have written a book more easily and quickly on our own, but we believe that what we've been able to write together is more worthwhile than what we could have done apart. And writing together underscores one of the big themes of the book – that God calls us to seek justice together, as part of the body of Christ.



Bethany: Kristen and I were coming from different contexts. She was in more of an academic role and I had been serving with IJM in more of an activist role where we were seeing this huge shift in churches. We were seeing a desire to be a part of justice work that hadn't been there before. People were so curious and really compelled by the issues. There was a growing momentum and desire to be able to make a difference. Kristen and I felt like there was a really deep movement happening here, but that it needed stronger legs to walk on in order to really endure over long haul. We wanted to come together—between our two contexts—to figure out what we need to understand about the entire story of Scripture, who God is, who Jesus is and what pieces of that will be most helpful for people to see that justice isn't just a side issue for some, but it is actually a concern for all of us as we follow Jesus. It is for the long haul, it's for our whole lives. The book wouldn't be what it is if we hadn't been working together.​
​
​You speak about this idea of moving into the darkness, how would you encourage someone who longs to do so but is paralyzed by fear?

Bethany:

I think there is a temptation to despair or even to be apathetic and draw back and embrace cynicism rather than believing anything can change or holding onto hope. What we learn from the prophets, especially Habakkuk, is that we can contend with God. We can argue, wine, ask questions of God, and we can know that He sees everything we see in a far more specific and complete scale than we ever could. He invites us to bring our questions to him and to wrestle with him. Just the act of questioning, rather than an affront to God—even if we are angry, is still us coming to God. And God longs for you to talk to him and tell him all the details, to leave nothing spared of what weighs on you and to let him enter into it with you. There is a beauty that he brings from even the most devastating ashes.




​​Throughout the book, justice work is defined as being long and hard, what would you say to someone who is burnt out from justice work?

Kristen:

We know that burn out is very common for those who long to see justice in this world. That's a big reason we wanted to write this book–to explore what it would take to seek justice as people with deep roots that are sustained and nurtured by the living waters of Jesus Christ. We believe that what we do is supposed to flow from who we are – so that our work of justice, ideally, flows from the grace we have been given in and through Jesus Christ that enables us to become God's children. This same savior, Jesus Christ, is the one responsible for reconciling all things (Col 1:20). We are invited to share God's ongoing commitment to reconciliation and justice, but this work ultimately depends upon God, not us. We hope that by looking deeply at God's commitment to justice and righteousness throughout the whole story of Scripture and by being reminded of the centrality of Jesus Christ for the reconciliation of all things, you might find strength to continue on in the journey. We hope that the practices of Sabbath, lament, worship, and Eucharist might be ways the Spirit can revive you as you are reminded of the beauty of God's vision for the world along with your own identity in Christ and your reliance on him for all things.




​What is your hope for how the church would engage in God's work of justice?

Kristen:

We hope the church would receive this justice calling as something we do together as the body of Christ. We hope they would see it as something we can do only by relying on God's strength and grace. We hope that as the church engages God's work of justice, it remembers that Christ is the Savior of the world, so the weight of saving the world is not on our shoulders. We hope that united with Christ, dependent upon the Spirit, reliant on God's word, and committed to seeking justice together, the church will have the God-given roots it needs for its passion for justice to persevere over the long haul.





The second chapter of the book invites people to Sabbath. So as we think about seeking justice, we need to think about stopping and being invited into God's vision and understanding that it is a gift to receive Sabbath and also a command to offer Sabbath to others; to think about the people who aren't able to rest and receive that —what does it look to be shaped by that? Weekly and daily practices that nourish and sustain you, taking time to gather in worship, to receive communion, to be shaped by Gods vision as God's people, to not think this is all up to you. That is a big piece of it, keeping Sabbath rhythms.



Bethany: Just showing up to be in community and to be in worship puts the church in a posture to receive this living work that God is constantly doing. Immersing yourself in the Scriptures and getting that truth over and over again: that this is God's work, this is who God is, and he is shaping us to be with him in it—I think that is probably one of the number one things we would encourage you to do, but most of all be in community. Find other people in the body of Christ to join up with and to peruse this together. It's never meant to be something that we do on our own.


​What is your prayer for this book?

Kristen:

My prayer is that through this book people might see how beautiful God's vision for this world is and how committed God has been and continues to be to the flourishing of humanity and the world. We pray that God might use this book to remind people that when we receive new life in and through Christ, we also receive Jesus Christ's call to seek His Kingdom of justice and righteousness in this world. And this call is not meant to be a heavy burden, but it is a gift we receive by the grace of God in Christ and seek each day by the grace of God in Christ.



Bethany:

I would also add that my prayer is for the body of Christ to embrace what it takes for passion not to be replaced, but to meet with perseverance so that it endures over the long haul.​
Three Ways to Get Involved Now:
Get a sneak peek! Download the first chapter of The Justice Calling. Share it with at least one person today and use #justicecalling on social media!
Can't get enough? Order the book for you and your friends!
Make plans to go through the book and the reader's guide with a group!